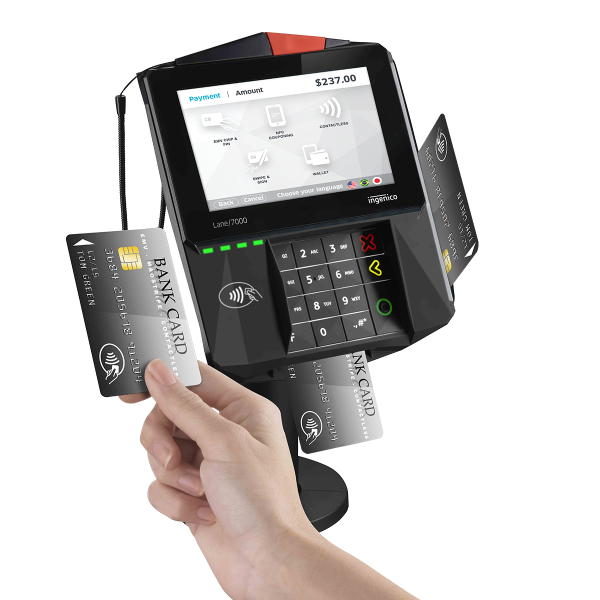 EMV Compliance.
Advancing Your Business with Chip Technology.
In 2015, a new requirement was brought forth regarding the processing of credit card payments, making it necessary for merchants to become EMV compliant with chip technology.
EMV-enabled terminals
The embedded technology in our EMV-enabled terminals offers more secure payments than magnetic stripe cards. With over 2.37 billion chip cards in circulation, EMV terminals are today's global standard for processing credit card payments. They allow you to process all card payments securely, including non-chip cards through safer magnetic stripe swiping.
All major credit cards.
All major debit cards.
Electronic Benefits Transfer (EBT) cards.
NFC/Contactless payments via key fobs or mobile wallets.
Complete with the Latest Technology
Our modern EMV terminals are complete with our Quick Payment Service (QPS), which allows buyers to process qualifying transactions without a signature, and features back-light touchpads for dimly lit environments. Now you can rest easy knowing your terminal and its software are always up-to-date with the latest enhancements thanks to our automatic download feature.
EMV Datainsure Loyalty Program
Sign up with our Datainsure EMV system today and you will become a member of our Fanfare Gift and Loyalty Program. This program is designed to improve customer attrition and loyalty while gathering useful data on buyer behavior.
Client Compliance is Important to Us
If you are currently accepting payments on a non EMV-compliant terminal and are tired of paying the associated fees, get ready to cut that expense. Datainsure provides a free EMV terminal to all customers with contract fulfillment.
All of our EMV terminals feature PED-compliant PIN pads.
Learn more about our EMV terminal services by calling a Datainsure expert today.